Joined

Oct 13, 2008
Messages

67
Location
Test
This is PI's "I have too many hobbies" sale. :doh:
I am located in Kamloops BC and will ship.
I will accept verified Paypal, Money orders and E-whateveryourbankhasthatgoesinstantly.
Will consider trades.
Watercooling Items
Evga Geforce 260 Core 216 w/ D-Tek Customs Uni-Sink
(exact model link below):
http://www.evga.com/products/pdf/896-P3-1265.pdf
I no longer have the stock air sink with it as I accidentally sold it in a box of miscellaneous heat sinks :blarg:. Never overclocked, in fact barely used.
$190 Shipped inc. Uni-sink
Danger Den Fillport Reservoir + Brass Fillport (Res brand new!)
SOLD
[FONT=Verdana, Arial, Helvetica, sans-serif]
Danger Den DDCPX-PRO 12V Water Cooling Pump
[/FONT]
This is an awesome little pump and worked great for CPU/GPU loop.
$50 Shipped
Swiftech MCR220 G1/4 threaded Rad + 2 x Yate Loon 120mm + D-Tek 1/2 in High Flow Barb Fittings
No leaks, works flawless, needs a cleaning though probably due to dust and dye bomb.
$45 Shipped
Magicool Copper CPU Water Block S478/LGA775/S939/S754/SAM2 G1/4 Threads
This block is low priced but honestly it works really well and looks damn cool.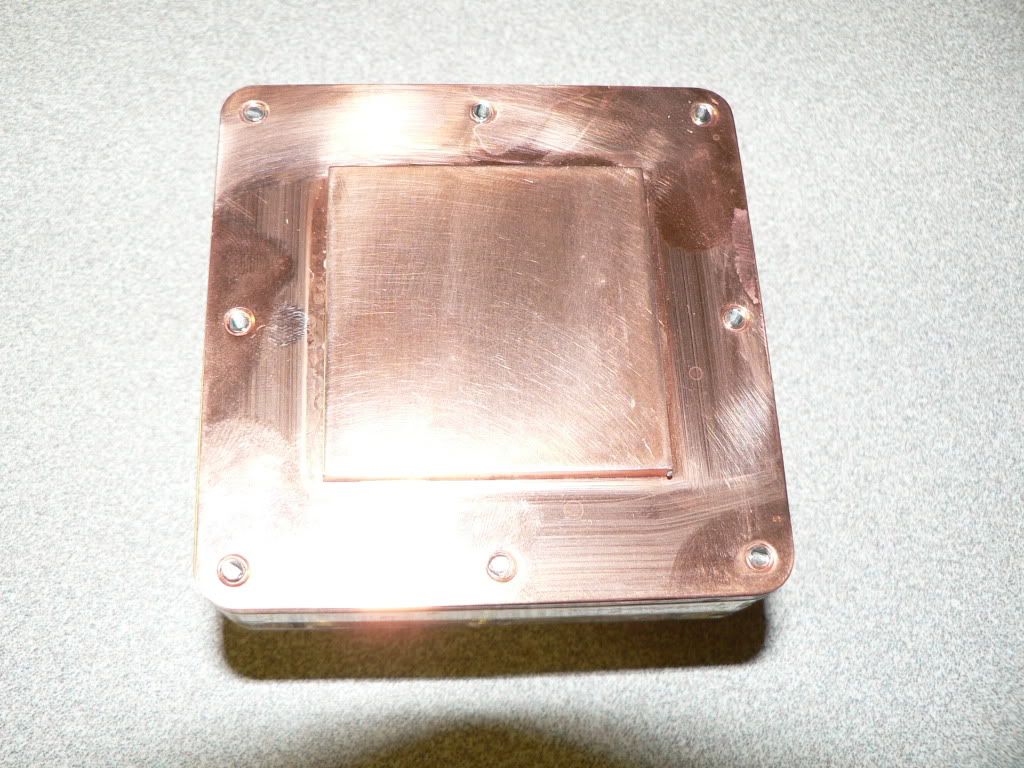 $30 Shipped
D-TEK Customs Fuzion GFX V2 GPU Water Block for Most NVIDIA & ATI Video Cards 1/2" Barb Fittings
Mint, has all mounting brackets in the box (260 mount is on it).
$40 Shipped
Viperjohn Vipercheck Flow Indicator w/ Red LED, hand made. Paid some rediculous price for it because its hand-made... don't even know if you can still get these. Cool bit of bling for your loop.
$60 Shipped
1 never opened box of
Primochill Primoflex Pro LRT Clear 1/2IN ID 3/4IN OD Tubing (10 Feet) + another 4-5 feet or so



$20 shipped
Micellaneous W/C Bits
I am willing to make deals, mix n match ect. if you need any of this stuff.
Bitspower BP-TB-CL Crystal T-BLOCK Water Cooling Tee Fitting for T-LINE
Danger Den Delrin Machined 90 degree Elbow fittings
Danger Den Brass Fillport


(Top) D-tek Chrome High Flow Barbs 1/2IN G1/4

(Bottom) Bitspower High Flow barbs 1/2IN G1/4
Petra's PT nuke, maybe 2 drops used
Black Anti-Kink, some unused, some taken off tubing but still good.
Pink (Orange under UV) Dye bombs
All offers considered just let me know what you need.
unk:
Hardware
Corsair Dominator Airflow Memory Cooler/Fan, 2 40mm Thermaltake dinky fans
Please buy these soon the pig is out of control!
SOLD
[FONT=Verdana, Arial, Helvetica, sans-serif]

DFI LP Dk P45-T2RS+ ATX LGA775 P45 DDR2OC 2PCI-E 2PCI CrossFire SATA2 RAID HD Sound GLAN Motherboard

[/FONT]
Absolutely Mint, not even overclocked!!! (had no time
) has all cords manuals etc.
SOLD

Intel e8500 Processor
Mint Again
Sold
Mushkin XP PC2-8000 Redline 4GB 2X2GB DDR2-1000 CL5-5-5-12 240PIN Dual Channel Memory Kit
Sold
Other Crap
Speakers
5.25 x 2
$40 Shipped
Jamo Sub 200
, barely used.. slight ding on corner from moving
$50 + shipping OBO
Contact me to discuss! :canadianwave::canadianwave:
Last edited: