It's one of these:
NCIX.com - Buy Kingwin RVT-9225 Direct Touch 3 Heatpipe Heatsink AM2 LGA775 S754 S939 S940 W/ 92MM PWM Fan - RVT-9225 In Canada.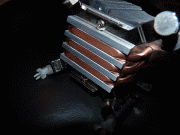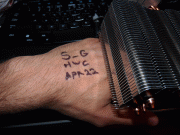 I've had two of these sitting in my closet for months. I probably won't use it. So, allow me to spread the joy to one of my fellow HWCers. All you have to do is pay for shipping, which will probably be about $7 within Ontario and Quebec.
The catch:
You have to tell me why you deserve it with the most absurdly hilarious story you can come up with.
It doesn't have to be true, just make it ridiculous and funny. Post it as a reply to this thread, and the funniest and/or most absurd can have it.
Why am I doing this? It's my birthday, courtesy of:
unk: