Joined

Apr 4, 2011
Messages

410
Location
After all this time selling here, I thought it would be time to lay down some info and ground rules.
- I live in Vancouver, and I'm willing to meet locally. My preferred meeting location is Victoria Dr. and 54th (sorry guys who live downtown). If you live far from my location, let me know and I'll probably meet you somewhere in the middle. I am occasionally in Richmond and Burnaby.
-
EMT only please!
I do have PayPal, but I would really, really, rather not use it. PayPal Gift only though, if you really need to.
- First come first serve. First person who gets EMT in my mailbox will get the item.
- I ship my items with Canada Post via Expedited service. $100 insurance w/tracking number.
- Smaller and inexpensive items might be shipped in a bubble mailer via Regular Mail service w/ no tracking.
- Faster shipping services with Canada Post is available, obviously with extra cost. I only charge you what Canada Post charges.
- I am also willing to ship to the US48, of course shipping costs will be a bit higher.
- You have 24 hours to report a DOA to me with proof within reason and I'll issue you a refund. I may or may not require you to ship the item back to me (at your expense).
Before iTrader went down, I had 100% feedback here. I have not used heatware too much, but I have 100% positive feedback there as well;
kevinchen | HeatWare.com
Want to Sell:​
Bundles:​
Video Cards​
Hard Drives/SSDs​
2x
Western Digital Scorpio Blue 80GB SATA 2.5" Drive $30 each $20 shipped each
Brand new and still SEALED in original anti-static wrap.
Motherboards​
Miscellaneous​
Kensington Docking Station $15
The Kensington sd200V Notebook Docking Station is the latest device from Kensington to provide a "universal" type of dock for notebooks. The dock connects to your notebook via a single USB port. From the dock, you can plug in five USB devices, speakers, a microphone, and a monitor.
Linksys E4200 Wireless N Dual Band Router $20
Best router I have ever used. This is the V1 version which is the one that supports DD-WRT or Tomato. Comes pre-loaded with Tomato but can easily be reverted to stock firmware. Multiple SSIDs, printer/external hard drive support, 5.0ghz support, etc.
BNIB Windowed side panel for Prodigy $15 local only
Black Bitfenix Prodigy
with missing top piece. Front panel clips fell off.
$30
Pair of KRK Rokit 6 G2 in Limited Edition Blue $300
Hoping for local deal on this one... Scuffs on the back of the speakers, but front is mint.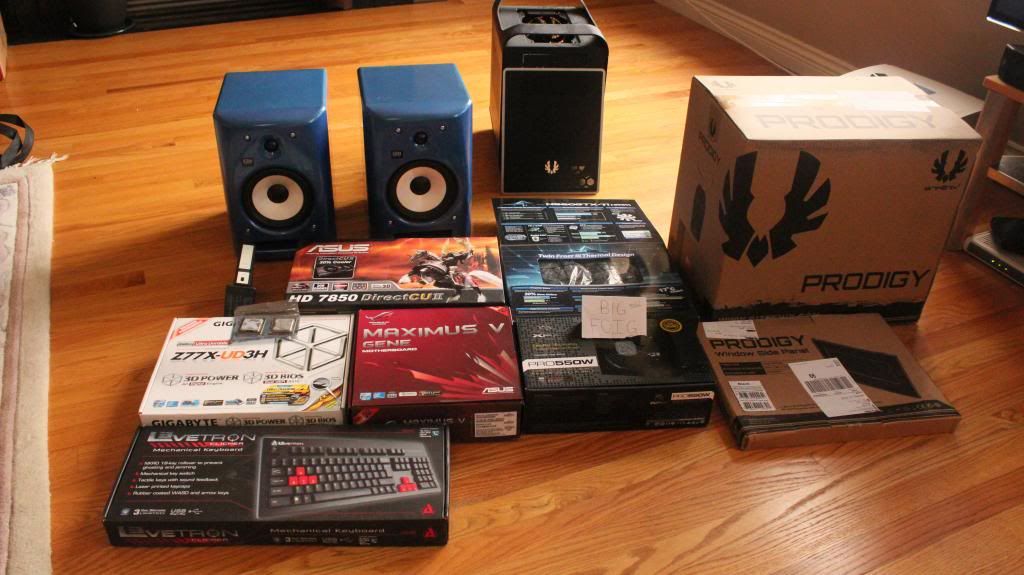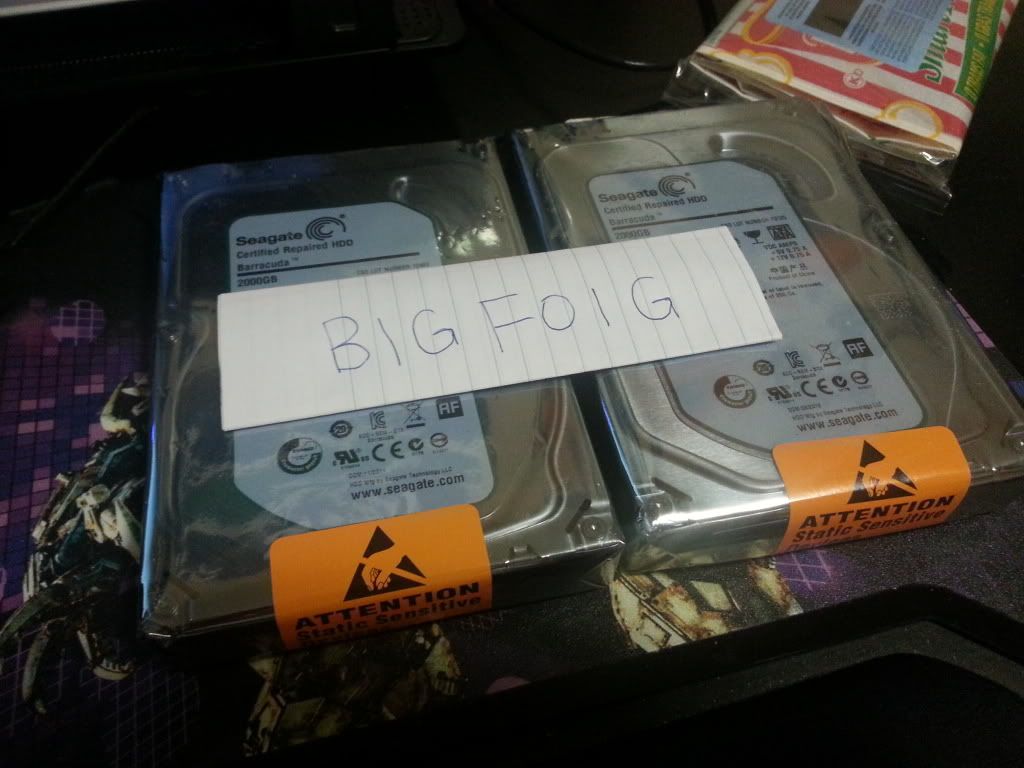 Bought Items:
Intel Core i7 990x
AMD Radeon HD 6990
XFX Pro Series 1050w Power Supply
Sager NP5160
EVGA GTX 570
Many Bitspower Fittings
EVGA GeForce 7900GT
MSI GTX 570 with EK Waterblock
XFX HD6950 2GB
Playstation 3 w/ broken blu-ray reader
Swiftech MCR320-XP
Swiftech MCP655
Gelid Wing 12 Pl Green UV LED
EVGA GTX 560 Ti
Logitech Z2300
Swiftech MC-RES Rev. 2
Swiftech Apogee GTZ
Sold Items:
Powercolor HD Radeon 7970 3GB $265
BNIB Asus Maximus IV Gene LGA 1155 $110
Patriot DDR3 1866MHZ 16GB 2X8GB $110
Gigabyte HD Radeon 7950 3GB $200
2x Seagate Barracuda 2TB Hard Drive[/B] $100 for both
Zalman Ram Cooler $20
Corsair Dominator 3x2GB @ 1600mhz 8-8-8-24 $30
Intel Core i7 930 @ 2.66ghz $130
Swiftech Apogee GTZ CPU Waterblock $30 Sold
BNIB Levitron Mechanical Keyboard $25 Sold
Intel Core i5 2500K $160 Sold
BNIB Black Bitfenix Prodigy $50 Sold
LNIB MSI GTX 550 Ti $55 Sold
ASUS HD 7850 DirectCU II 2GB Sold
Canon Rebel T3i Package $450 Sold
2x Western Digital Scorpio Blue 80GB SATA 2.5" Drive $30 each $20 Sold
BNIB XFX PRO 550W PSU Bronze Certified$40 Sold
BNIB Gigabyte Z77X-UD3H $130 Sold
MSI Twin Frozr III GTX 560 Ti Hawk
$130 Sold
BNIB ASUS Maximus V Gene $170 Sold
MSI Big Bang X-Power $140 Sold
Asus Xonar DX Sound Card $70 Sold
Samsung Galaxy Note 2 16GB White Unlocked SGH-T889 $680 Sold
EK FC6990 Waterblock (Free with purchase)
OEM AMD Radeon HD 6990 $400 Sold
Seagate Barracuda 2TB Hard Drive (Never Used, Certified Repaired) $70 Sold
BNIB Gigabyte X79-UD3 Motherboard[/B] $180 > $160 Sold
BNIB Gigabyte Z77X-UD3H Motherboard $120 Sold
PNY GeForce 9500GT 512MB
$35 $30 $25 shipped Sold
Western Digital Scorpio Blue 80GB SATA 2.5" Drive $30 each $20 Sold
Western Digital Scorpio Blue 80GB SATA 2.5" Drive $30 each $20 Sold
Seagate Barracuda 2TB Hard Drive (Never Used, Certified Repaired) $70 Sold
BNIB Gigabyte G1 Assassin 2 Motherboard LGA2011 $200 shipped
Sold
D-Link DWA-552 Xtreme N Wireless Adapter
$40 > $35 > $20 Sold
Galaxy GeForce GTX 670 $340 Sold
24" LG Flatron W2442PA $150 shipped Sold
24" LG Flatron W2442PA

w/ single dead pixel $140 Sold
Dell 120GB 2.5" Drive $25 Sold
BFG Geforce 7600GT OC $20 $15 shipped
Sold
HP Elitebook 6930p $280 > $250 > $175 Sold
OCZ Vertex 3 120GB $130 $110 $100 80 shipped
Sold
Western Digital Scorpio Blue 80GB SATA 2.5" Drive $30 each $25$20 Sold
Seagate Momentus Thin 250GB
$55 shipped > 40 > 35 shipped Sold
Sager NP5160 $500 shipped Sold
Corsair HX650 Modular Power Supply $60 Sold
24" LG Flatron W2442PA

$150 Sold
Creative SoundBlaster Audigy Value 7.1
$5 or free with purchase
Sold
2x
Western Digital Scorpio Blue 80GBSATA 2.5" Drive $30 each $25 $20
Sold
Creative SoundBlaster Audigy 2 ZS
7.1 $20 $10
Sold
Intel Core 2 Duo E8400 $35 Sold
Never used TP Link Wireless N 300Mbps Cardbus $10 $5 or free with purchase Sold
ASUS Sabertooth X79 $280 Sold
Blackberry Bold 9780 $160 Sold
BFG GeForce 8600GT $30 $25 $20 Sold
Kingston 4x2GB DDR2 800 RAM $60 or 2x2 Sold
MASHITA BD-CMB UJ130AS Laptop Blu-Ray Burner $80 $65 Sold
Dell 120GB 2.5" Drive $40 $25 Sold
Dell 120GB 2.5" Drive $40 $25 Sold
EVGA GTX 570 $220 Sold
BNIB EVGA GeForce 8800GTS $40 Sold
Kingston 2GB DDR2 RAM $20 $15 Sold
Corsair CMX4GX3M2A1600C9 4GB (2X2) 1600MHZ 9-9-9-24 $30 Sold
Western Digital Scorpio Blue 80GB SATA 2.5" Drive $20 Sold
4x Western Digital Scorpio 80GB IDE 2.5" Drive $15 each Sold
Samsung 4 x 1GB DDR2 RAM $20 Sold
20x Never used 1GB Kingston DDR Ram $70 Sold
BNIB HTC Incredible S Unlocked $300 Sold
BNIB Silverstone Strider ST1500 $240 Sold
MSI GTX 570 with EK Waterblock 340 Sold
Accell Active Mini-Displayport to DVI adapter $15 Sold
Accell Active Displayport to DVI adapter $20 Sold
HIS HD6950 2GB unlocked to 6970 $260 Sold
XFX HD6950 2GB $240 Sold
Last edited: