A friend of mine has me building him a new gaming rig. Technically it started a couple years ago when we picked up the chassis but it went on hold for a while but now he's back at it and dedicated to building it. I told him to just give me money and I'll build him something special. Back when we started talking about it he liked the idea of a compact build, and I liked the idea of the challenge of trying to take it further and watercool a tiny build because why not?
So I'm building a mini-ITX gaming rig in a Lian Li PC-Q10 chassis spoting an i5 9600KF and an EVGA RTX 2070 Super Black something rather edition as it's the only 2070 I can find that meets the max length of 270mm for the case (oh yeah she's tight). Alphacool has a waterblock compatible with the card too, so bonus
I found this pic on a toms hardware review that gives a good idea of what the chassis skeleton looks like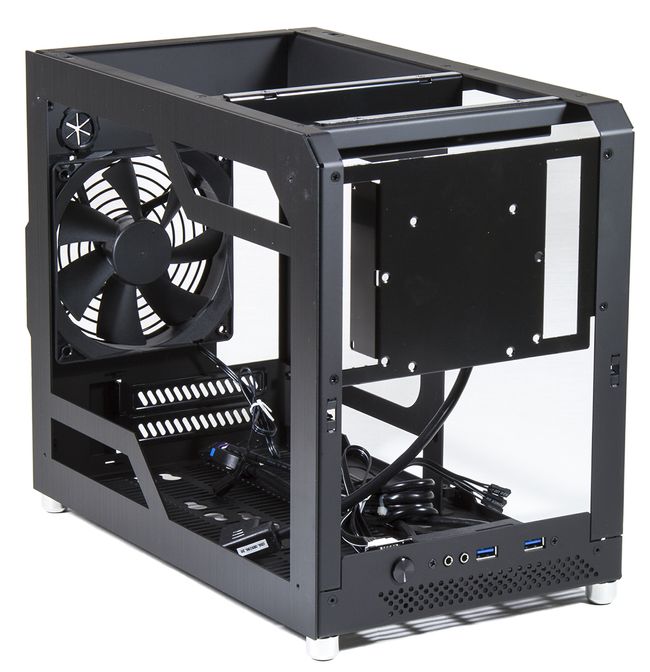 I am open to alternatives if anyone has any, but I'm thinking of using the Fractal Design Celsius 24 as a starting point for water cooling. It's closed loop, but expandable, and the pump integrated into the CPU block helps with the space restriction which the most important thing in my mind here.
I'm looking at the corsair SF-750 psu to save space, allowing me to move the PSU mount to the front of the chassis making room for a 240mm rad up top. But a single 240mm rad isn't going to be enough for the cpu and GPU, so this is where my question comes in. What are people's thoughts on adding a thick 120mm rad in the loop? This one would have to be mounted outside the case at the back, but there's ports for tubes there so I'm thinking this Darkside rad should work yeah?
ATTENTION: 1. Due dual side to ports configuration, this radiator should be used PULL or PUSH-PULL fan configuration only to allow enough clearance for inle